The rain came this year much earlier than it is usual. It is only beginning of March, but most of days there are rain showers and mountains in clouds. After coming to Salento I visited Paramo Trek agency, to ask about climbing Nevado Tolima. Salento is one of the most beautiful small towns in Colombia, which I visited. It has only few streets, but colonial and colorful houses, as well as famous Cocora Valley is calling tourists every day.
Like the previous days in the lowlands, it starts to drizzle around noon. First day I just made short hike near the town, visited beautiful waterfalls and was looking forward for a bigger adventure.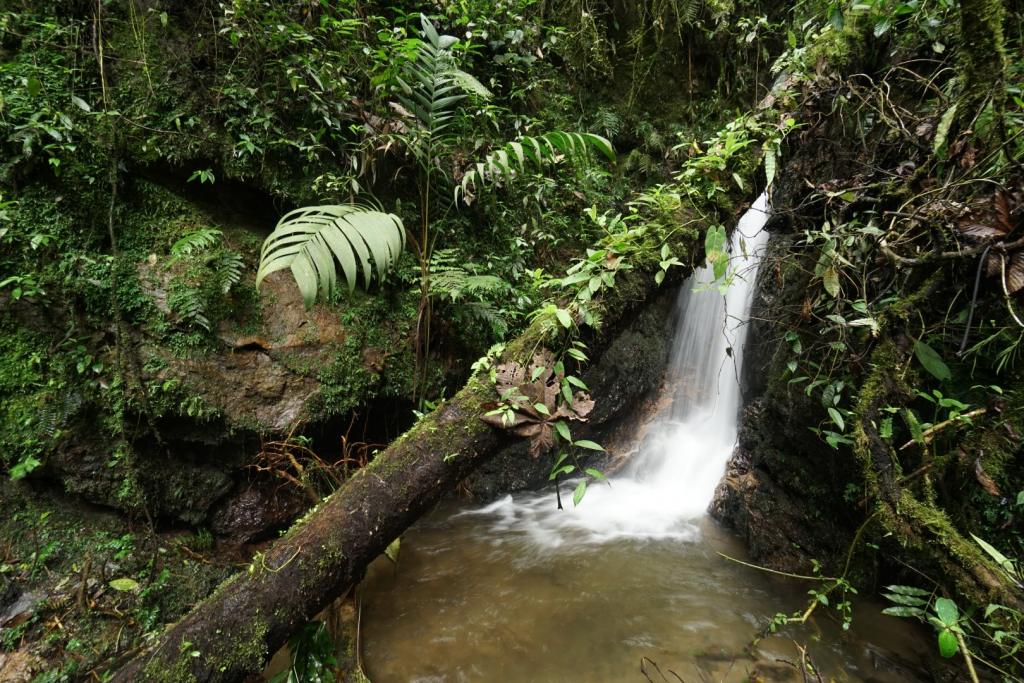 First day of the tour starts in Cocora valley, which is famous for the tallest palm trees in the world. Some has up to 60 metres. This place is very popular and even if it is touristic, its worth of a visit. Hike up is quite long and takes most of the day. Big bag packs are taken by mules. The mountain tops are hidden all day. The drizzle starts after the noon. After 3PM I am with four boys from Germany and our two guides in Primavera hut.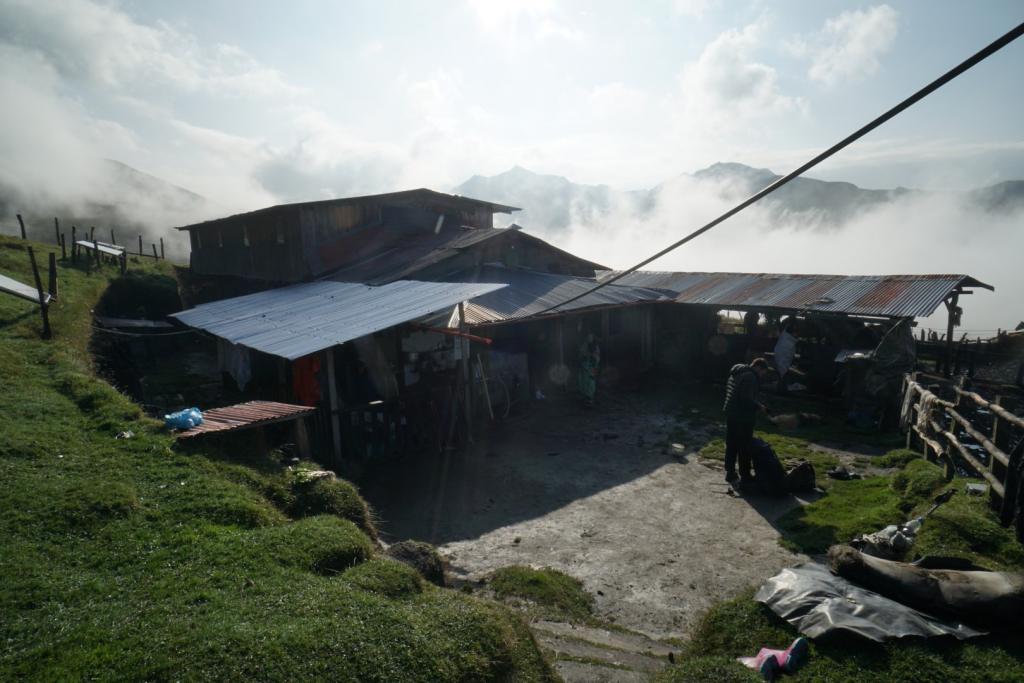 Four 20-year-old boys went out into the world for a year after graduating from high school. In November, they went wherever possible, to Costa Rica. This was followed by Mexico and then Colombia. One was even on a hike to Paramillo de Quindio a few years ago with the same agency. We also have dinner and meet the guides of Santiago and Felipe.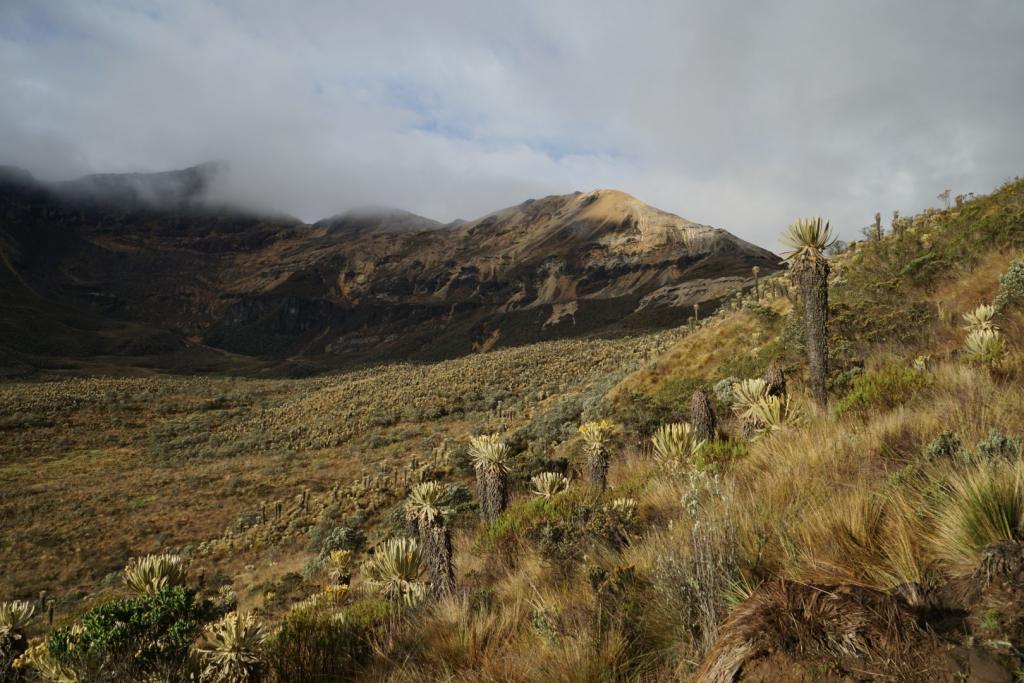 In the morning we have an amazing view of Tolima. It is completely cloudless. Wonderful. By the time we leave at half past eight, it's over again. We walk a few kilometers along the same route as I came, until at one place we turn right, towards the base camp. There are also two other groups with guides, who also slept on Primavera. It's going up pleasantly for me and we're there right after lunch.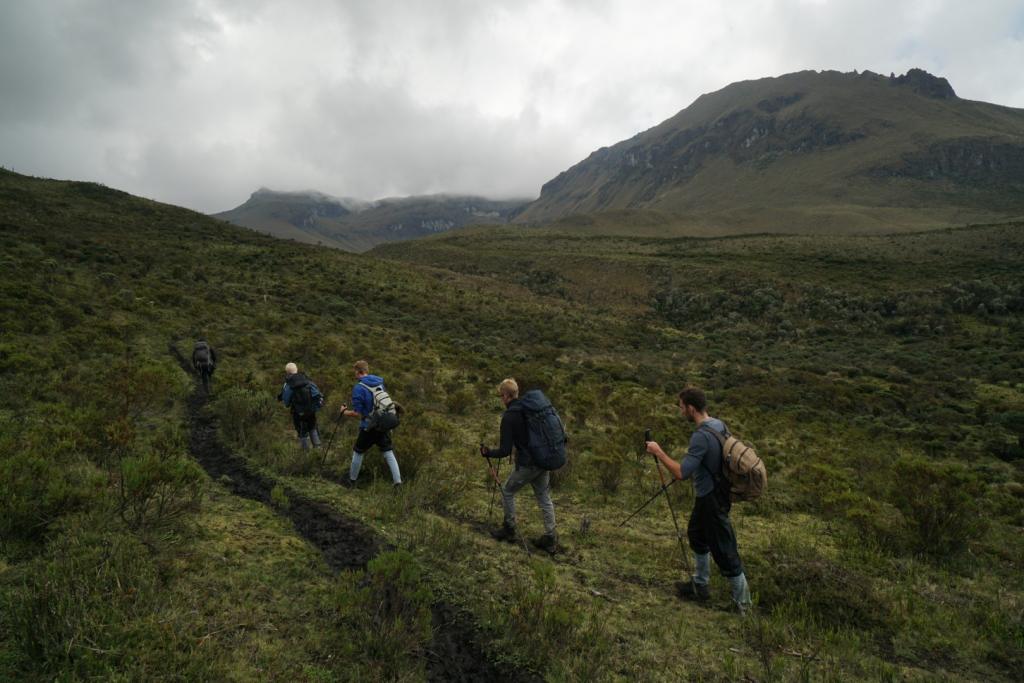 In the afternoon, the guides explain to us how to walk on a glacier, how to hold an ice axe, how to tread at a distance when we are on a rope and so on. During this time is coming second Felipe, who I met three days ago. He will be my guide on next day. He likes to run, so all the necessary things were brought to him by mule and he ran out of Cocora to base camp with a mini running backpack in 7 and a half hours. Crazy. In the evening Nevado Ruiz shows in the distance at sunset and the whole area is like a fairy tale. The view is incredible.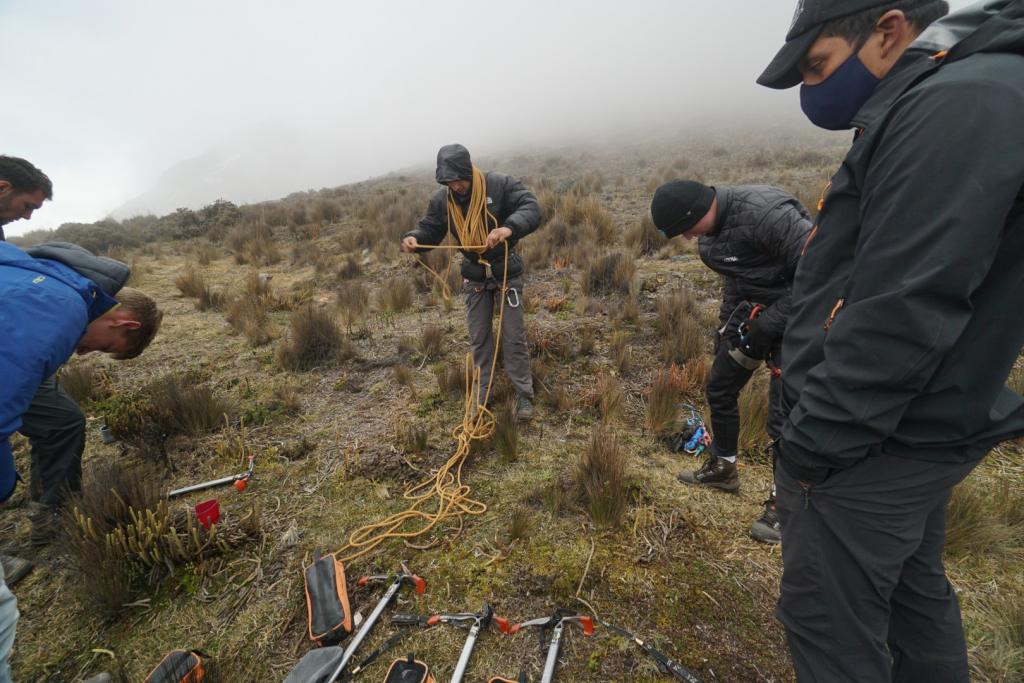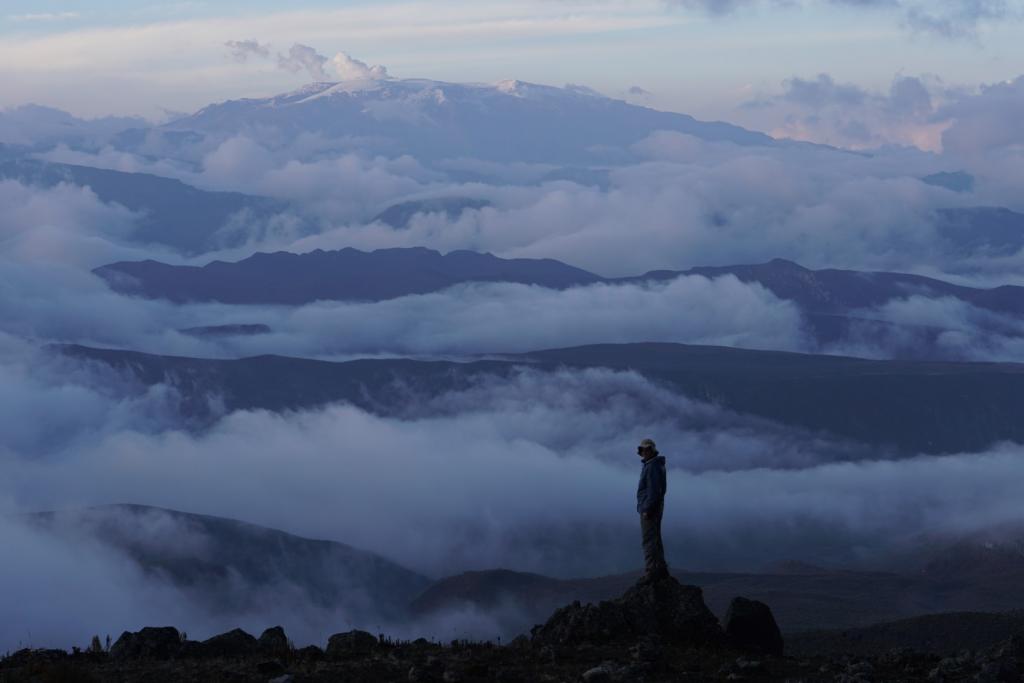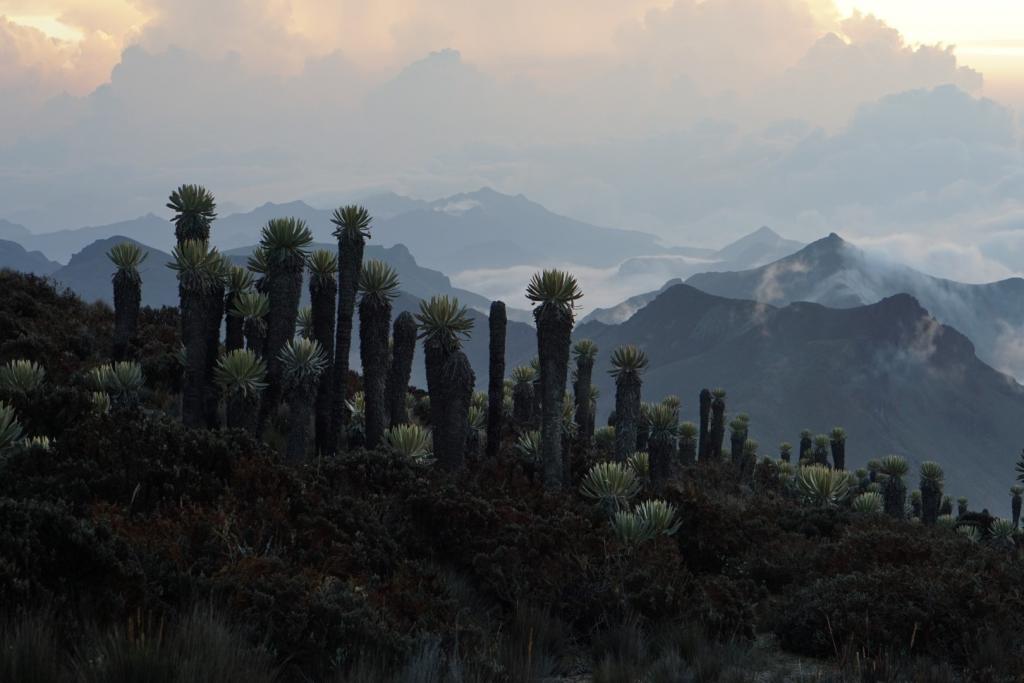 We get up at half past one at night. Felipe and I leave around 2:40, a few minutes before the rest. We first step on the clay-sand-stony sidewalk with headlights, until we walk purely on stones. On Felipe's recommendation, I have three layers of pants, that is, everything I have, including pants borrowed from the agency. I have short and long merino and a jacket on top. We step slowly but continuously. We are slowly catching up other groups. At an altitude of about 5000 meters begins the glacier. Under the jacket I also put a fleece. Felipe and I will go on a rope. It is only 4:15 and we are only 90 minutes away from the top. I feel good. In strong winds and light snow and drizzle, I'm glad I'm wearing all my clothes. After a while, I have to hide my glasses, because the rain and snow froze on them and I can see almost nothing. During the ascent, I register two steeper sections, with a slope of maybe over 30-35 degrees. They are easy to make with crampoons. At the top we meet a group of two people from France with one Colombian. Felipe talks to their guide and they agree that they haven't been to the top before sunrise for a long time. It's only half past five. We are in the dark in the fog. We don't see anything. There should also be a crater. We are waiting for the sunrise, which is at 6:10. We can already see daylight, but we are still in the fog. Furthest we can see to a distance of ten to twenty meters. I would stay for a while, but it is not the warmest. Occasionally with strong wind and the temperature is definitely below zero. We have icing on everything. When the group with French people returns after 5 minutes, because they only went around in the fog, they are turning on the navigation, we prefer to follow them. On descend, we also meet other part of our group. We're down at eight in the morning. It is drizzling. Climb was smooth, I had no problem and I felt good. Only nature on this day did not allow anyone to see their beauty.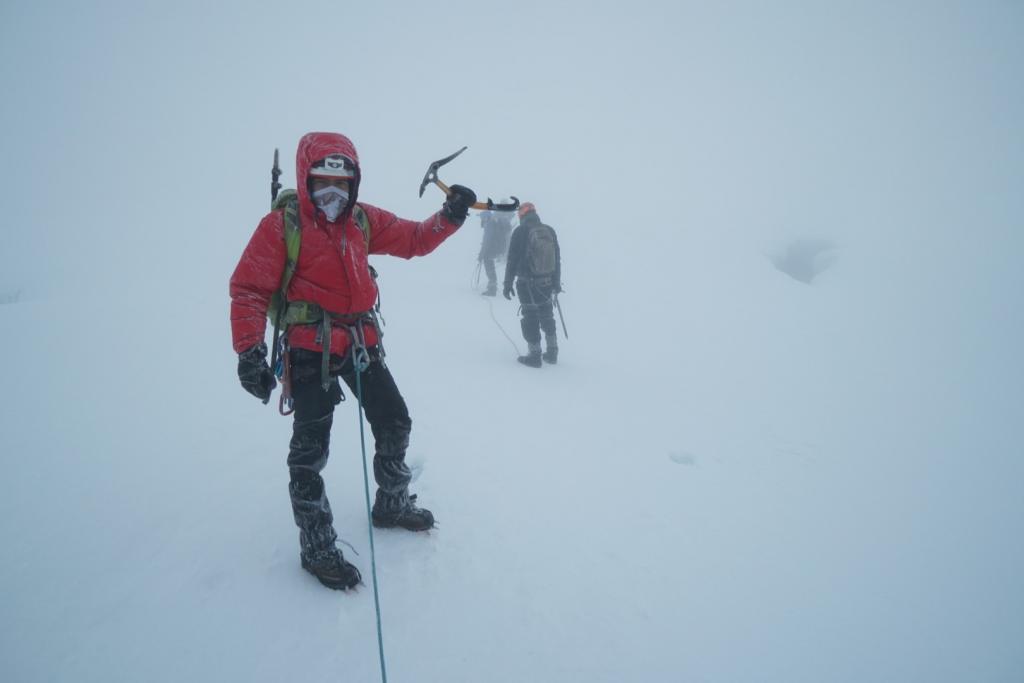 From the basecamp are two options. Either you go back and slowly down the same way. Or you can take longer route and go to hot springs. The path around Tolima is then much longer and also you will spent several hours in transportation to come back to Salento.