Christian Stangl, from Austria, is the only person whom has reached the top of three of the highest mountains from all of the seven continents, all of this during his seven years of travel. He's around the world three times and so reached 30 summits to be sure about his goal. On Saturday March 12th he will be the headliner of Travel festival Cestou necestou in Bratislava. What are secrets of this man?
You spent a lot of time in the mountains. When did you start to enjoy mountains? Do you have 'mountains' in your family genes? Do you remember when first you had your crampons on your feet and an ice axe in your hand?
My first summit was in 1968, two years after my birth. Well, my father supported me by carrying me, most of the time 😉  However, when I turned 14 I took my first real steps on the mountains. I started with simple trekking, later rock climbing, ice climbing etc. I owned my first ice axe and crampons when I was 16!
You do sky-running. Could you please describe what it is, and for how long are you doing it now?
"Sky-running" is speed-climbing high mountains (above 4000m -> 8.848m) in a single push from the base to the summit. I was already a keen mountaineer for twenty years when I found out, by chance, that I can stay very powerful in high altitude (above 6.000m). I decided to train specifically and speeded up Mount Aconcagua (6.956m) from Basecamp to summit in 4hours 25 minutes. This was in 2001. Since then I've called myself a "Sky-runner". Around 2013 I stopped my intense training. I simply got too old 😉 and I work now as a mountain guide again.
How did the idea to 'reach the Seven summits' come to your mind? You're educated on electro-technics that is far away from mountains :). What is the reason that you've become a professional mountain guide and a person with an idea to 'reach the Seven summits'? The office was not for you I assume.
Till 2006 I speed-climbed Mt. Aconcagua, Kilimanjaro, Elbrus and Mt. Everest. So I climbed already 4 of those 7 mountains. Why not climb the remaining three summits? I started my education for an IVBV mountain guide already in 1988. Due my time consuming employment I couldn´t finish it. As an electrical engineer I worked in Austria and in Libya (North Africa). I earned good money but after fifteen years in the field I was exhausted.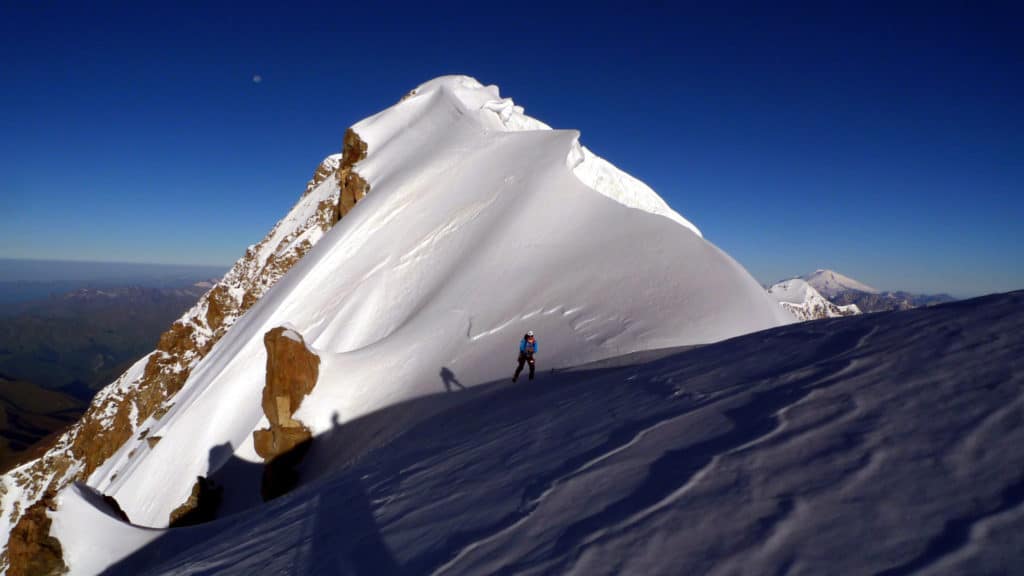 After reaching 7 summits you didn't want to climb all fourteen, 8000 meters peaks and you created project 'Triple Seven Summits'. Did you have also other ideas?
Yes! I wanted to climb all 102 6.000m peaks in the South American Andes. However, my partner didn´t want me to spend two years continuously in the Andes…The quest remains still unclimbed but fellow climber Max Kausch is currently up to collect all those peaks.
If you could describe in one sentence and later in one word, what does the time in the mountains mean to you?
"Intense Life"
I've read that the most difficult for you was reaching Kanchenjunga in Nepalese Himalayas. What was the hardest thing on this expedition?
Kanchenjunga! Well, I started my approach at ZERO meters sea level, right at the coastline of the Indian Ocean. I cycled and walked through India and Nepal till the basecamp and climbed Kanchenjunga without supplemental oxygen. It took me 76 days from 0 meters to 8.586 meters, every meter by pure muscle power. That's why it was "a little bit though"  😉
I've also read that to climb Ojos del Salado in Chile is much harder that Aconcagua in Argentina. Which of the second and third summits of all continents was hardest for you?
I can´t decide. Ojos del Salado is similar like Aconcagua. All the second highest are tougher than the highest. For example K2 is much tougher than Everest. The only exception is definitely Sumantri, which is little bit easier than Carstensz Pyramid.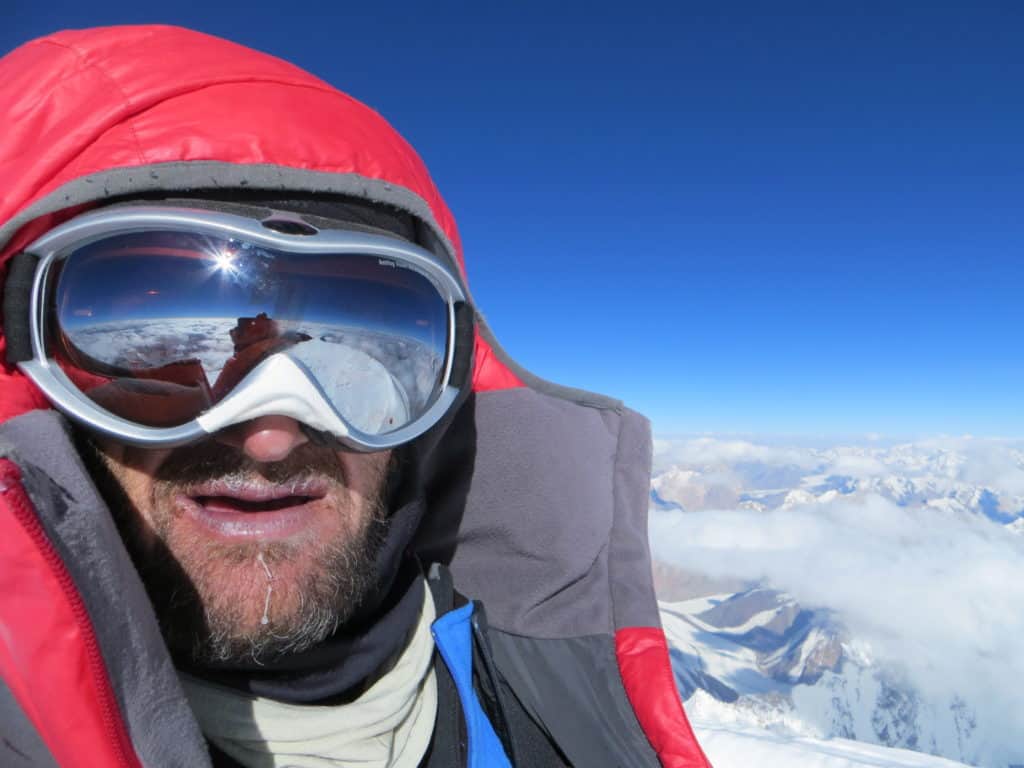 Are some of these summits also possible to reach for normal people just with hiking boots, without the crampons, rope and an ice axe? Perhaps summits in Africa?
Sure, Kilimanjaro, it is the toughest walk in Africa. But for the second highest peak in Africa, Batian (Mt.Kenya) you have to climb at least grade 4+ AND 36 pitches up to and altitude of 5.199m  and you have to rappel. The third highest, Mt.Mawenzi is a climb too, but the rock is very rotten and dangerous. In the upper part you need crampons to overcome the icy slopes. Dangerous rock fall up there.
How about the other continents? Are they all just for climbers?
Kilimanjaro is by far the easiest, Batian and Mawenzi are real climbs. Aconcagua, Ojos and Pissis are demanding "high altitude" walks, no technical sections. Denali (Mt. McKinley) is cold, but Mt. Logan is not only cold also very remote and very few people. No tracks up there. Pico Orizaba is similar to Mt. Elbrus. Dyck Tau and Shkhara are much tougher than Elbrus. Shkhara is considered as one of the most difficult summits in the Caucasus mountain range. Everest is tough as long as you climb without supplemental oxygen, which i did. K2 is the most difficult summit of all 21 peaks (usually considered as the toughest peak on the globe). And K2 is the deadliest peak. During the time I spent at the mountain (five summers) fourteen people had died there. Kanchenjunga is similar. Difficult and dangerous! Mt. Vinson in Antarctica is any easy walk with crampons, instead Mt. Tyree, it is a technical climb in a savage environment. Mt. Shinn is a climb 50 degree ice at least. Carstensz Pyramid is an easy climb in solid rock, Sumantri is easier. Puncak Mandala is not difficult at all but very difficult to reach the mountain itself.
Have you reached all three summits in Antarctica at once or you went everywhere just for one summit and you were moving all the time around the globe?
No, I have been down there four times. I also worked there as a mountain guide. And I climbed other mountains beside the three highest.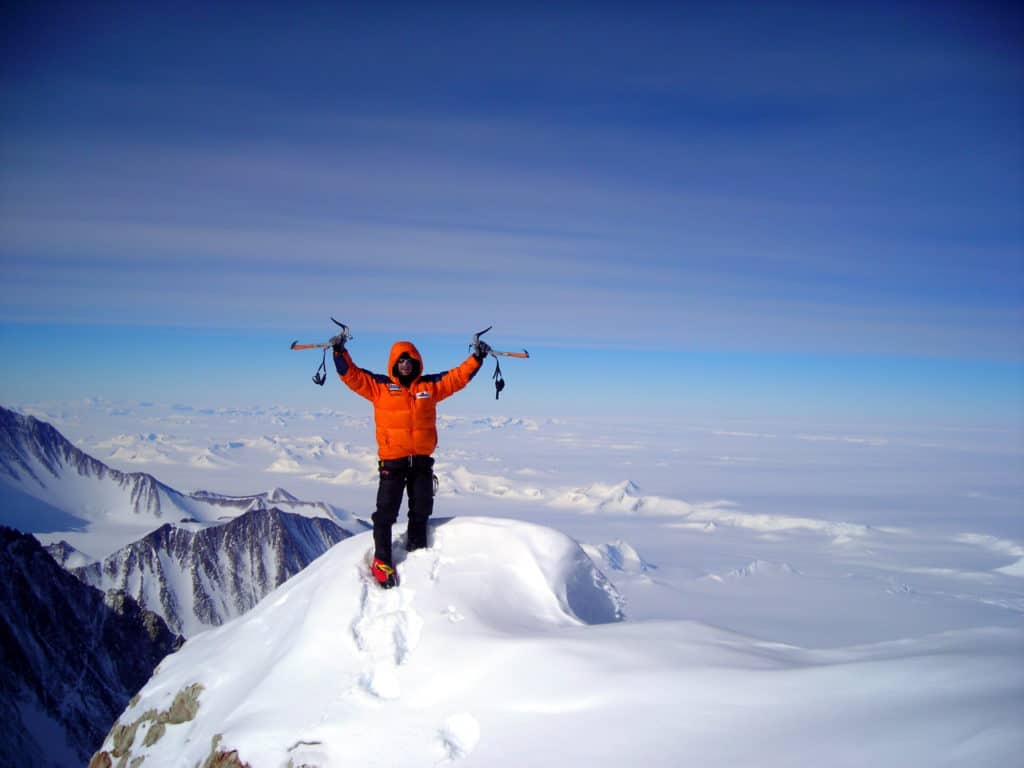 Can you describe the feelings you get when you stand on the top of the summit?
Depends on the mountain, but the most impressive and intense moments I felt in the Antarctic mountains. The landscape is simply amazing.
Did you have feeling somewhere of you went too far and you were not sure if you will survive? Or somewhere, where you felt, that you will not come home?
Yes. Already in 1998 after the successful climb of the south face of Shisha Pangama (8.046m) during the decent I was "out of control", exhausted, tired and sick. I was not sure to reach the base camp. And of course Mount K2. Up in the so called "bottle neck", above your head the huge serac which can kill you every second…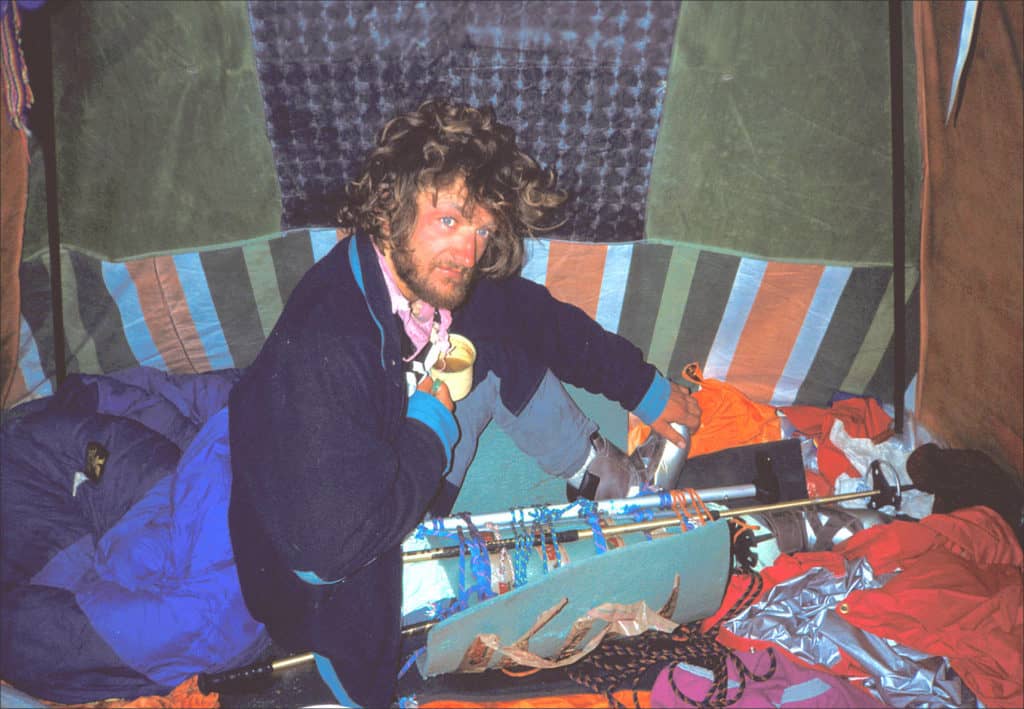 What is the best food which you ate in the base camp?
Homemade Beacon…from Austria!
What do you usually eat when you are camping?
Pasta.
How long did you prepare for summits and how does your day look like, when you are training for climbing high mountains? Do you count all your calories, etc.? J
Difficult to answer, but for Mt. Everest I trained five months. And no, I don´t count calories I eat as much as I can. During intense training periods I usually lose weight, so it is absolutely necessary to eat as much as possible!
Did youchange yourself, your opinions or your values after spending so much timeinthe high mountains in last decade?
Absolutely! "Speed records" are now not important anymore and after a couple visits in the tropic jungles and in Antarctica I think it is absolutely to preserve wilderness.
You met different kinds of people. Is there something what we could learn from people whom you have met?
Well, the people I admire most are indigenous people, like the Kogi Indians in Columbia. They live their own life, they don´t know much about the world surrounding their territory. The culture is approx. 3.500 years old. They want to keep their own language and their cultures. Nature is the most important for them. They don´t want to have trade with "our" world, simply they don´t need our products. They are, or at least they seem to be satisfied. They don´t need growth, even they don´t need what growth is. I don´t know if they are "happier" than us but they definitely don´t suffer of the pressure created by the any artificial economic system. I got the impression those people don´t depend on anything and that I call freedom.
Have you been in some country, where you don't want to go again?
I´ve been in China several times. Well, landscape is nice and worth to explore but honestly, all those bureaucracy and restrictions…
What do you think about tourism in Nepal (and other countries) where tourists can pay tons of money and Sherpas will take them to Everest with oxygen, even if they are not ready and prepared? What is your opinion about how the tourism should look like in the high mountains? I understand that people in the mountains needs to live from something but to throw stones as happened in Everest to Ueli Steck and Simone Moro is not normal… What could be good solution for nature and people too?
Honestly, I have no answer, no final solution. Concerning the 8000m+ peaks I suggest to ban supplemental oxygen or at least not to recognize a summit with O2 bottles as an "real" summit. If this would come into the mind of westerners, much less people will ever try an 8000m+ peak.
Do you use oxygen in high altitudes?
No, never! Personally I see supplemental Oxygen as a kind of doping and when I (personally) want to climb an 8000m+ peak I want to feel the natural environment up there (including the lack of oxygen and pressure!!!) and not to inhale oxygen which was compressed and filled in bottles somewhere else.
You visited four times Indonesian Papua where you climbed up 5 summits. Where did you find maps and information about where to go? How many locals did help you with the expedition? Did you have local porters going with you everywhere?
Very long story! For Puncak Mandala I gathered info for two years.
What was the most exotic place in terms of indigenous people? In which country did you meet the most hospitable people?
Colombia. There is no mountain there which belongs to the "Triple Seven Summits" project. However the Kogi Indians there are very interesting. The most hospitable people? Maybe in Nepal or Chile.
Which one of thepeaks you climbed is theclosest to your heart? Which one has leftthe biggestimpression for you?
The solo climb via a new route on Mt. Shinn (third highest peak of Antarctica) was emotional as it was on Puncak Mandala. I enjoyed the remoteness and the loneliness. Mt. Logan in Canada was very emotional too. K2 kept me busy for five years and on K2 I feared many times for my life.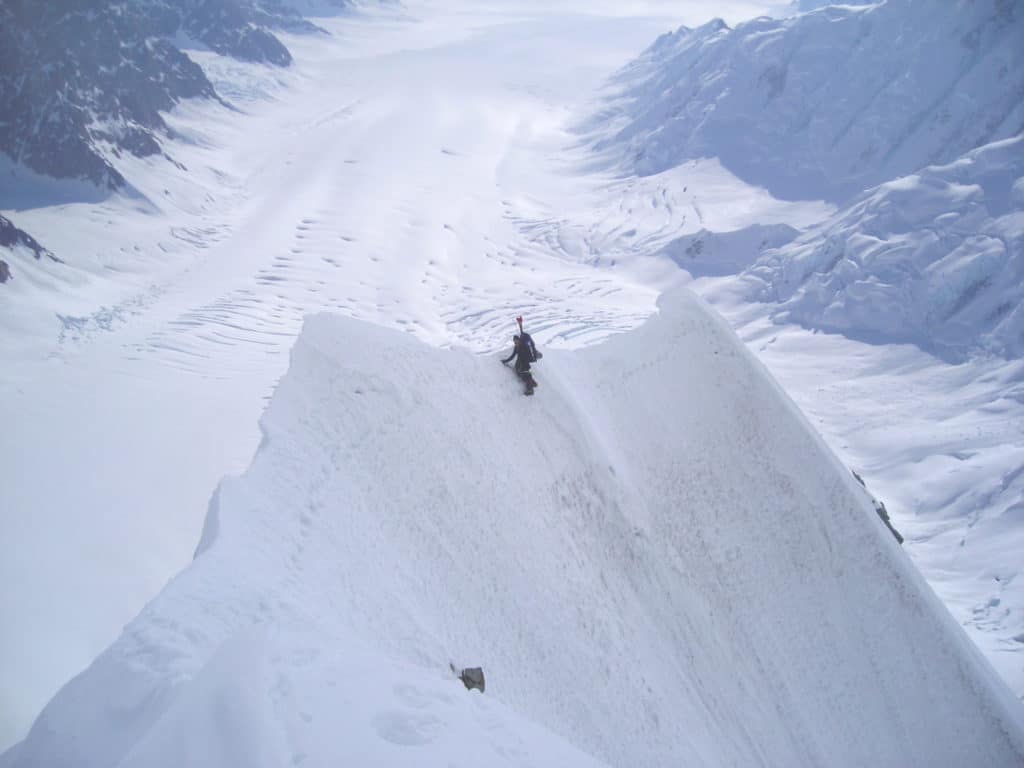 You have achieved something thatno one ever has before. Do you still have challenges?
Yes, I have. But better not to publish things before they have done.
Do you know about some project (yours or somebody else's) that if it would come true, you would say: "Wow that is something."
Ha, that's the question which I asking myself for years! What next? An example: I follow those guys who intend to climb Nanga Parbat in winter. But when the job will be done, we will ask immediately: What's next? Seemingly we are all a little bored of sensation alpinism, and on the other hand we all feel that real alpinism comes to an end. There will be always good performances in alpinism, like Nanga or K2 in winter, however the majority does not see any big progress.
Which mountaineers, sky-runners or climbers do you watch and do you think we will hear about in next years? (You can write 3 to 10 people).
No names here. We all know the most popular climbers at the time. But those who are really good tomorrow might be not popular yet. Things change fast and they will even change faster in the near future.
What do you do when you are not climbing? What is yourday to day life?
Spending time in answering interviews 😉    Preparing shows and talks. Checking forecasts for my guided tour like tomorrow. Doing seminars for beginners in ski touring and help them to recognize avalanche proned slopes. Doing my private "Free riding" in the Austrian Alps. Playing with my little daughter. Organizing an interesting program for the summer (rock climbing, via ferrata) and preparing a private action program for my near birthday. Of course, beside eating, drinking and celebrating.
How do you see yourself in, for example, 10 years? Do you plan your life or do you leave everything open?
I´ll be Mountain Guide. I´ll do my garden, eating my own veggies 😉 I´ll fight for freedom, not for me only, for all citizens. We all must/should fight against neoliberalism in general. There is a need to fight against TTIP, against corruption and the banking systems which are consequently cut back our personal freedom.
Do you have any other different motives for travelling than to climb? For example to get to know new cities, adventure travels or common sea vacation?
Yes. Cycling. I cycled many thousands of kilometers and I love to see new countries.
Are you looking forward to your visit of Slovakia, probably the last country in Europe, where supplies of mountain huts are made by porters? Have you ever been here? Do you know Rysy, Kriváň or Gerlach peak in High Tatras?
Ha, the porters! I saw reportage on it. Great! That´s a good reason to visit your country! I have never been in Tatras before, I should definitely do this in the near future!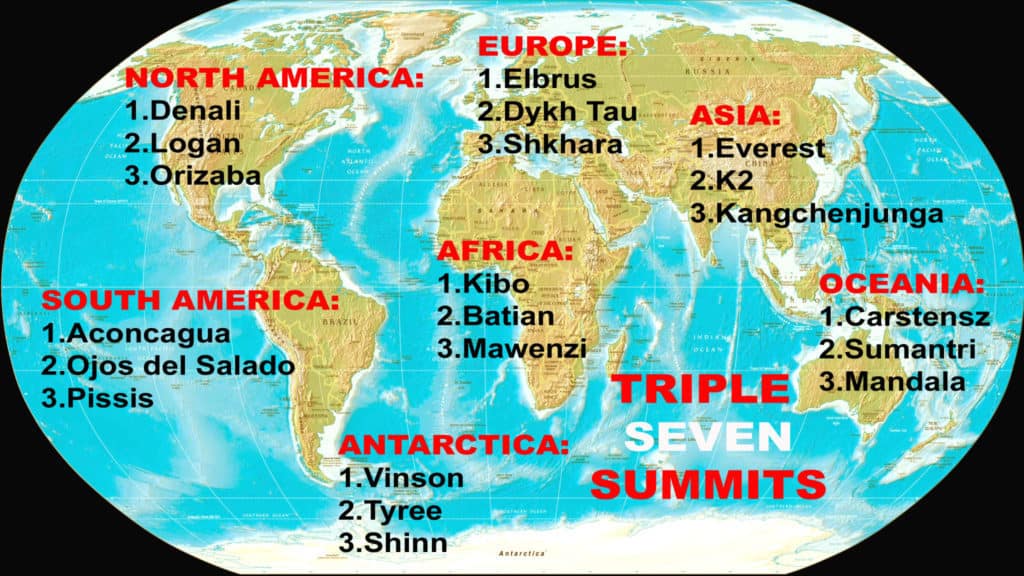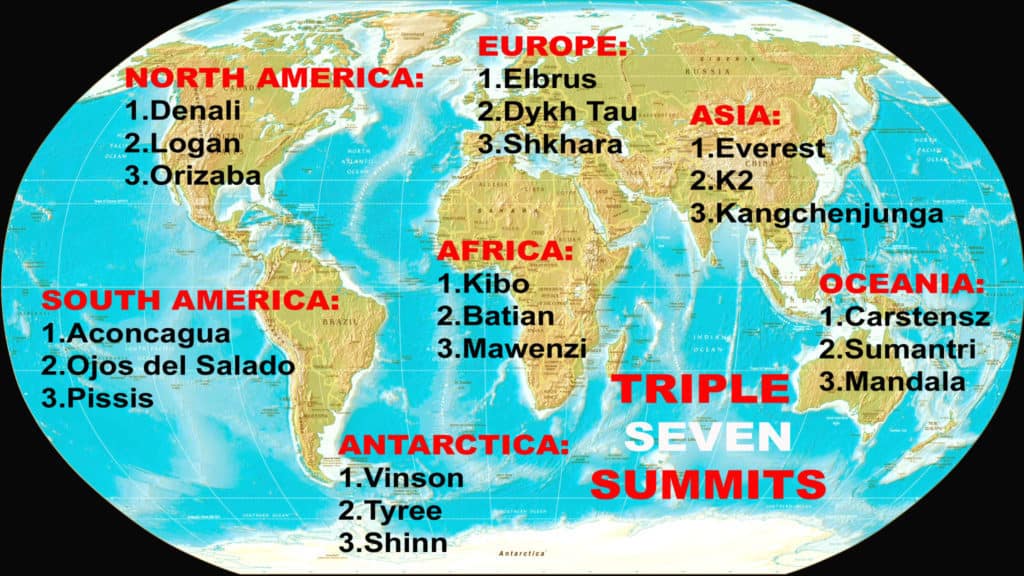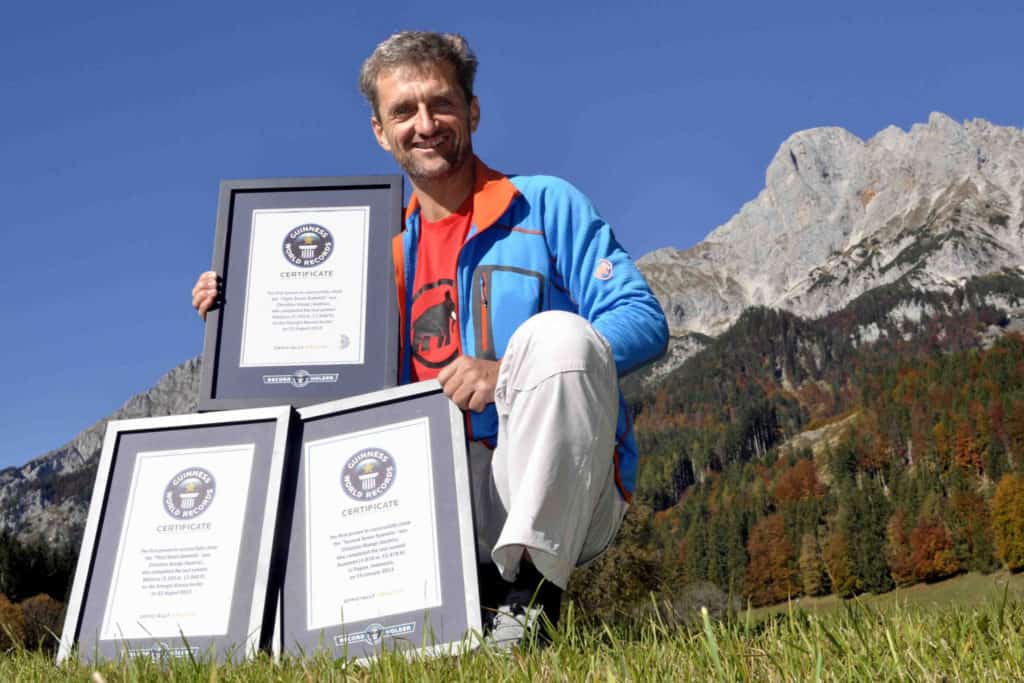 Christian Stangl will be main speaker at travel festival Cestou necestou on Saturday, March 12th 2016 in Bratislava. Festival is one week long and will bring 2 presentations in English language (event on facebook).
Bibiana Košová, Michal Knitl
Correction: Billy Pengilly